Are you thinking about making colored fog? You are not alone. In this article, we will answer some of the most common questions that people have when they are trying to make colored fog in their home or office. We hope that this information is helpful and provides a starting point for your decision-making process!
What is fog and how does it work?
Fog is a cloud of tiny droplets that results from condensation. Fog can be made by spraying water into air or through the use of dry ice and hot water. When fog machines heat up cold, high-pressure air (also called "dry" fog), it cools down and becomes supersaturated with moisture as warm, moist air has a greater capacity to hold onto vapor than colder temperatures do. The misty plumes produced are simply small drops of condensed humidified water vapor, which appear in large quantities when passing through warmer pockets of outside air—or anything that's significantly hotter than its surroundings!
Why use colored fog?
One of the most common reasons for using colored fog is that it can create a bold, dramatic effect. Another reason to use color in your fog machines is because many venues have certain lighting and stage requirements when they host live entertainment or DJs. Colored smoke gives you great flexibility and variety in meeting these standards! The third (and perhaps best) reason we love colored smoke: It lets you make awesome party memories with friends and family!
The best ways to use colored fog in your event or party
Fog machines are the most popularly used effects machine in various types of events like concerts, weddings, parties and even theatrical settings. They can be placed on stage or controlled by an operator to provide dynamic atmospheric effects that enhance any event!
Colored fog is best when it's thick & opaque enough to see shapes through but not too heavy where people cannot walk through them (be careful with dry ice).
The ideal room temperature for colored fog production is between 70-80 degrees Fahrenheit.
Anything below will cause thicker clouds while higher temperatures make light mists. If you want more dense vaporization , turn up your heaters or use less fluid/ice—if you're trying to achieve thinner results then do just the opposite! Be sure that your fog fluid is non-toxic and safe to breathe in if you plan on using it indoors—we recommend that you avoid any products with oil or petroleum additives.
The most common type of fog machine used at events or parties is the "wet" variety because they require less maintenance & are safer around people/pets . Generally, these units use a heating element (like stove top burners) submerged under water within a large tank filled with liquid glycol , which evaporates into thick clouds when heated up. If your unit has an external fan built inside, make sure not to block its flow!
Different types of fog that are available for purchase:
Dry Fog
Dry fog machines are capable of producing the heaviest, thickest clouds.
This type of machine is great for creating theatrical effects or for use in high heat situations because it won't melt any product that you put into them!
Dry ice and hot water can be used to create dry fog without using a special machine.
Warm/Hot Fog
Like dry-ice based fog, warm (or 'hot') vapor machines produce heavy cloud effects; however they do not require dry ice to work properly. They typically cost more than their counterparts but still provide an excellent value when compared with other types of professional equipment like smoke generators .
Warm fog does best indoors where humidity levels are lower (it works well outside too!).
One big benefit is that warm fog can be used with a wide range of liquids and chemicals.
Cold Fog
Cold vapor machines are capable of producing very lightweight, subtle effects which is perfect for creating a beautiful haze or light cover over the stage area without being too overwhelming to the senses! These machines typically have lower water capacities than their counterparts but still provide an excellent value when compared with other types of professional equipment like smoke generators .
They work best in humid conditions because they will produce thick clouds if you add more fluid into them.
Hot/Warm Fog vs Cold Fog – What's The Difference?
There isn't much difference between hot and cool mists except how each evaporative product feels on skin (warm = wet; cold = dry). Both products are best used indoors because they are lighter in weight and will not blow away easily. Hot fog machines are often preferred by DJs or performers who need to see the area that is being covered with vapor.
Can I make colored fog at home?
Technically, you can make colored smoke at home by adding dye or paint to your fog fluid. However this method is not recommended because the chemicals found in most dyes and paints are harmful for humans to inhale. We do NOT recommend using this technique!
How to make colored fog at home?
Materials you'll need: Water, a large pot with lid (or bucket), stove top burner or hot plate, food coloring, dry ice , and some kind of fan . Optional materials include an extension cord for the electrical components as well as gloves/eye protection depending on your comfort level handling dry ice! If you don't have any experience working with dry ice before, it's best to be safe rather than sorry—wear protective gear if needed!
Start by filling your pot up with water about half way. Add two drops of food coloring into the water and mix it in—the more color you add, the darker/stronger the fog will be! Next, place a lid on top of your pot or bucket to prevent evaporation from occurring too rapidly which can affect performance.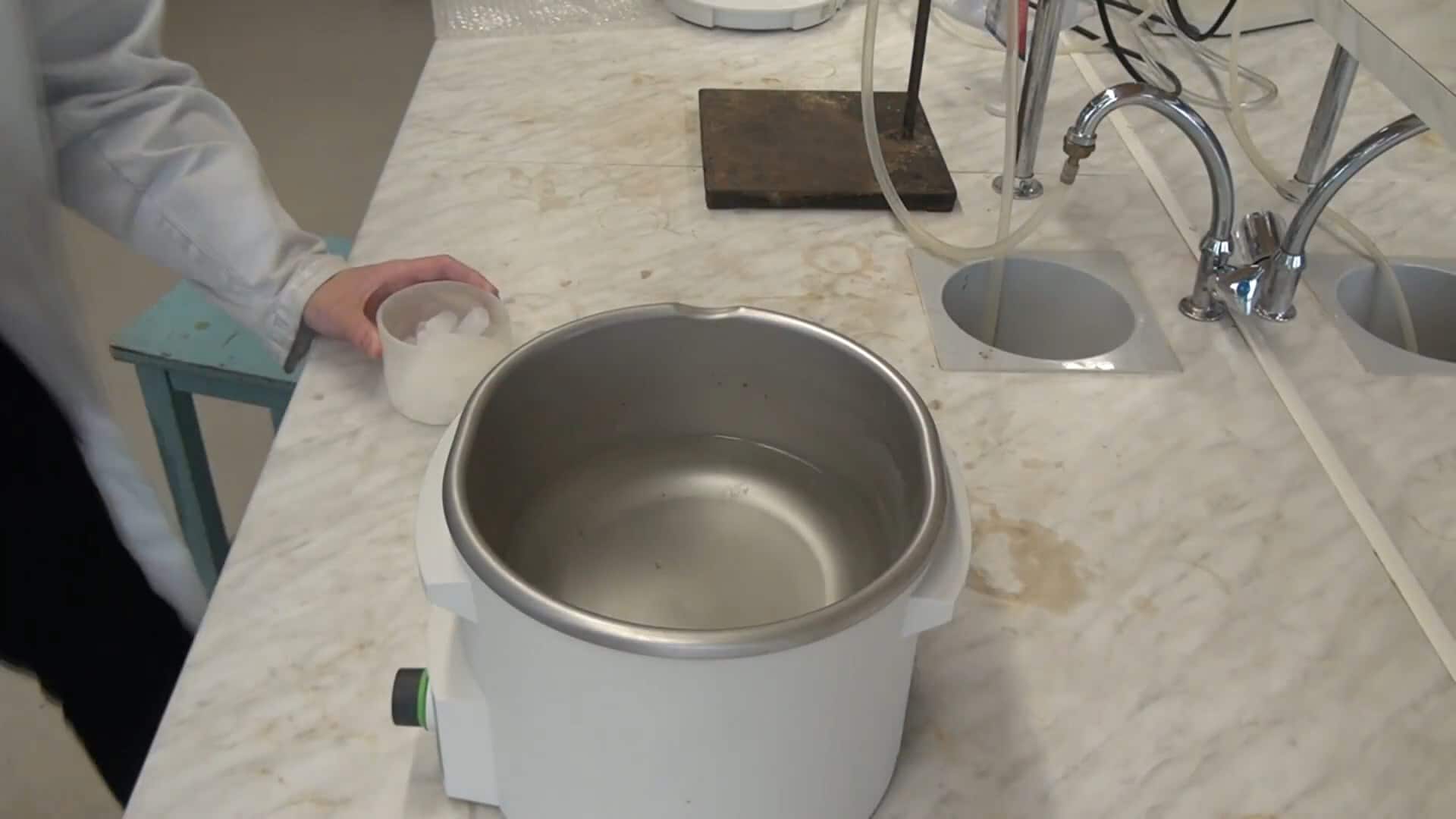 Bring the mixture over to where your dry ice is located so that you are ready for step four. Optional: Use gloves to handle dry ice . If not using gloves, make sure there are no children or pets around when working with dry ice because they may try eating it thinking it's cool candy! If needed, use a fan or some kind of air blower to move your fog around! (But it can worsen the quality of the fog)
Carefully place pieces of dry ice into water using tongs . Do not hold onto any piece of dry ice because it will burn skin like an ember (be careful!). Keep adding more and more until desired results are achieved; if your pot/bucket is too small, add all ingredients at once for best performance!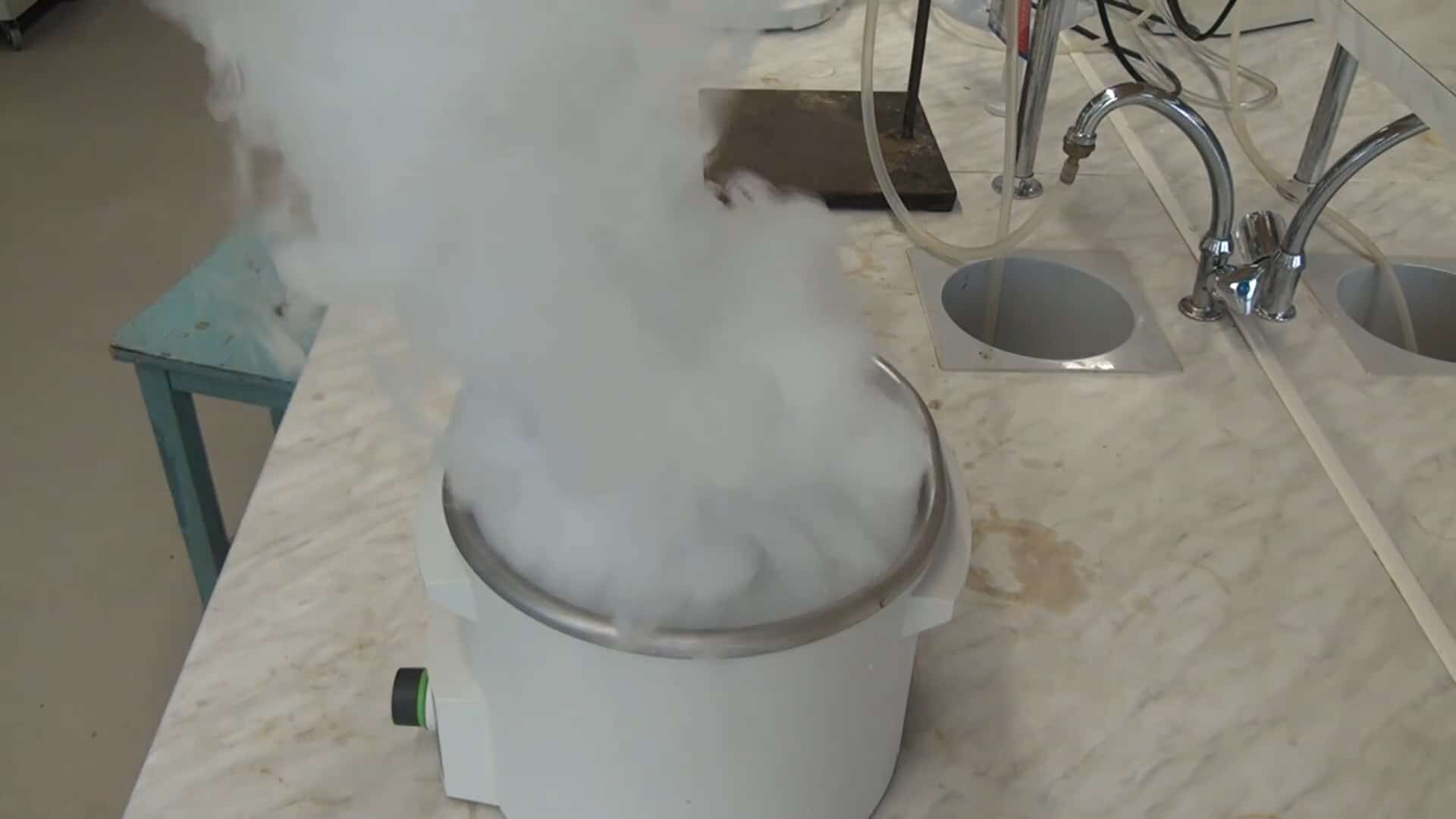 Be aware that dangerous chemicals can easily break down in sub-optimal conditions such as low humidity levels—they do NOT work well outdoors or inside near fans blowing on them. Be sure that there's no wind present before starting this experiment (the process goes even faster than it does in humid conditions)!
What is dry ice?
Dry ice is solid carbon dioxide with a temperature of -109° F (-78.33° C). It's called "dry" because, unlike regular ice which forms from water, liquid CO² passes directly into gas when at room temperature and pressure without becoming a liquid first—it changes right from one state to another!
The result: Dry Ice sublimates (turns straight from solid into gas) in normal atmospheric conditions instead of melting like regular ice would under similar circumstances
How does it work?
When dry ice is dropped into a bucket of water, it causes the liquid inside to boil. This creates fog that is similar to smoke and looks almost identical too – only without the smell!
Using the Fog Machine with Lights
The easiest and most modern way to get colored smoke for your party is undoubtedly to use a fog machine which has built-in LED lights that can give you the color you want.  This is by far the easiest way to get colored smoke, especially for beginners. All you have to do is fill the fog machine with fog fluid , turn it on and choose a color!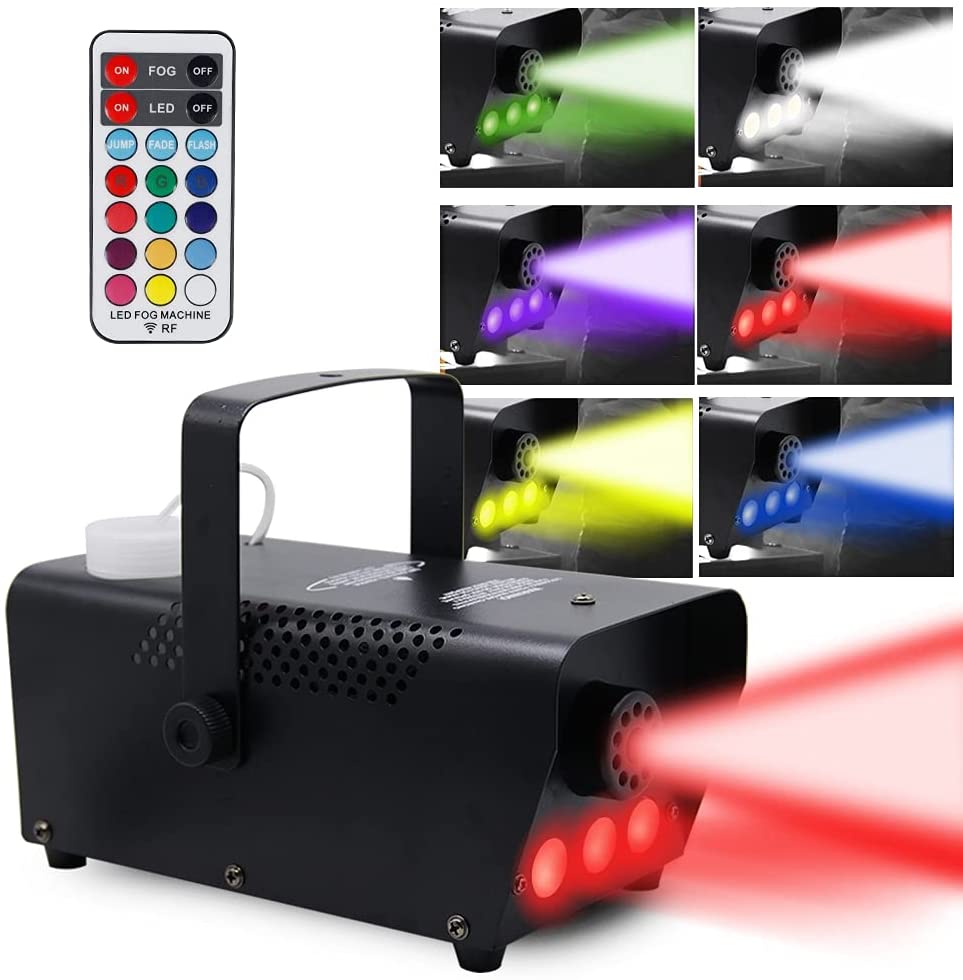 Benefits of this method:
You don't have to use dry ice which can be dangerous without any experience.
You also don't need a large pot or bucket for this method, all you need is your fog machine and some smoke fluid .
For these reasons, the "fog machine" method of producing colored smoke is by far one of the easiest ways to do it!
Ability to change the color of smoke in seconds. You don't have to do anything complicated like changing from one color to another. All you have to do is change the color on the remote control.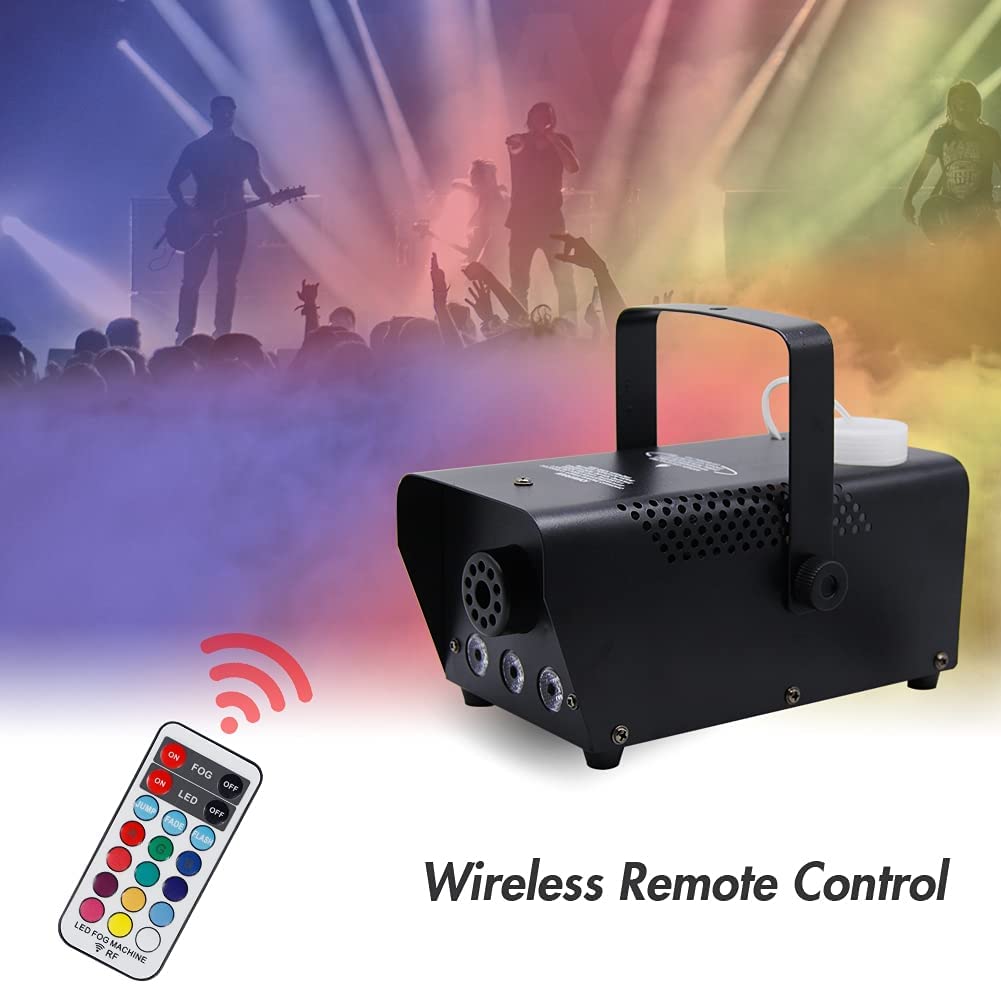 Having a remote control is also a huge plus. You can change the color or control the fog machine at any time without going near it, which can be very helpful if it is in an inconvenient place for you.
What size machine should I buy?
It depends on your room size! Generally speaking for inside rooms you want less than 1000 cubic feet. Anything more than that and you'll waste fog because it won't be able to hang in the air long enough for your guests to see it! For outside large venues, you will need a larger machine.
How long will my machine last? How often should I refill it?
This really depends on the size of your fog machine. Smaller machines can create a lot more smoke in less time, so they need to be refilled every 20 minutes or so. Larger machines are able to produce larger amounts of smoke and therefore may last longer without being refilled.
It is important to keep an eye on how much fluid you have left when using any type of machine. If it starts sputtering or getting weaker then it's probably time for a refill! For this reason, most professionals recommend that you always have at least one extra tank ready just in case!
Try out different combinations if needed! And remember: Only use distilled water with no minerals added because particles in tap water could affect the quality of your smoke!
The more fluids the fog machine has inside, the longer it will last before needing to be refilled – but make sure that there are no leaks or spills because this could affect performance and safety when using the fog machine.
In conclusion
The "fog machine" method for making colored smoke is by far one of the easiest ways to get colored smoke on-demand with little effort required on your part. All you have to do is add some fog fluid into your device and choose a color via remote control. This also boosts quality and safety since you don't need to use dry ice or large amounts of water.
The good news is that fog machines are not only used for making colored smoke! They can also be used with bubble fluid and other liquids, so they may come in handy even if you do not plan on using them for color effects.