We clearly imagine what modern concerts, theater plays or entertaining shows look like – a lot of lasers, high-quality sound, interesting scenery, and the main thing – fog throughout the stage. Fog machines are intended to create an individual atmosphere by spreading thick puffs of smoke on the stage, dance floor and other rooms where entertainment events are being held.
Fog machines work due to heating and subsequently evaporate fog fluid. Their malfunctions depend not only on the quality of the device itself. The proper operation is also one of the crucial factors as well as the quality of the fog juice, which serves as the basis for creating a haze.
Want to enjoy the best possible effect? Then you need to clean a fog machine from time to time.
If you noticed that the device doesn't produce as much fog as before, no need to start panicking and looking for another one. In most cases, you just have to clean it.
So, how to clean fog machines? Let's discuss all possible ways to clean the fog machine effectively.
What Problems Will You Face If Not Cleaning a Fog Machine?
In the past, smoke generators were used only on stages. Today they can be found at all parties, discos, and show programs to create special effects. Fog machines are simple and convenient to use, they are reliable, durable and safe for the people around. The smoke generated is odorless and absolutely harmless to health. The special fog liquid based on distilled water, glycerin, and flavorings is used to create fog.

The most common cause of the breakdown of smoke generators is the "coking" of the fluid heating chamber. The smoke machine consists of a tank for fog juice, a pump for supplying liquid to the heating chamber, and the actual heating chamber. Here the haze fluid turns into steam in a split second and exits under the influence of pressure, creating the effect of fog. The heating chamber of the smoke machine is a tube in the form of a spiral, heated by a heating element. Roughly speaking, the system is similar to an electric kettle. And where there is a boiling process – the scale is formed.
This scum is the most common reason for the failure of smoke generators.
The second problem occurs because of overheating of the heating element. It is less common, but also leads to a "coking" of the smoke chamber. Such malfunction is found mainly in cheap generators. In addition to the likelihood of more rapid failure of the smoke generator, overheating of the heater will lead to an unpleasant, "burnt" smell of smoke coming out. The main reason why this happens is a poor adjustment/calibration of the smoke generator thermal relay, which regulates the heating temperature in the chamber.
The appearance of an unpleasant odor can also be a result of using low-quality fog fluid. Therefore, we strongly recommend that you use only specialized fluids produced to clean fog machines with minimum efforts.
How to Clean a Fog Machine: Step-by-Step Instructions
Puffs of smoke can turn any room into a fabulous space that has little to do with reality. This is the main task of the generator – to allow people to escape from reality a bit and create a special world filled with colors, illusions and magical effects. The smoke machine is used mainly to reduce the transparency of the air. As a result, the light and laser beams are read well, becoming more spectacular.
Thus, smoke favorably emphasizes other visual effects, such as lasers, scanners, and strobe lights, and gives them new unique colors. However, if you don't take care of the fog machine, you won't be able to enjoy all its benefits.
You should clean the device on a regular basis to guarantee proper functioning.
There are two ways on how you can clean a fog machine.
1. Clean a Fog Machine on Your Own

In order for your smoke generator to serve you faithfully for a long time, the fog machine needs periodic maintenance. It is not complicated and consists in flushing your smoke generator.
After every 40 hours of continuous operation (clean smoke exhaust time), you should flush the evaporator with a solution consisting of 80% distilled water and 20% white food vinegar.
It is strongly recommended that you follow the procedure described below:
Pour the fog fluid from the generator tank. Pour rinse solution, turn on generator into the network and put on warm-up
Use a fog machine in a well-ventilated area until the fluid is fully developed
Flushing is completed. Fill the machine with smoke fog fluid
Then, you should turn on the smoke generator and drive the water out for 3-5 minutes at full capacity of the fog machine
Important: On the Internet, you can find advice to use descalers or a solution of vinegar. It is not recommended to do this, as vinegar can damage the seals and pistons of the smoke generator pump, and descaling products can clog the heater tube even more.
The instructions for each model of a fog machine indicate how to clean the smoke of the device and carry out maintenance work. Some of the models are cleaned with a specially prepared solution of distilled water and vinegar, however, at home, this procedure is not recommended, since a very unpleasant pungent odor can be released.
2. Get a Special Cleaning Liquid for a Fog Machine
You can buy a smoke generator cleaning fluid if you need to clean a fog machine. It is used as a means of preventing the formation and cleaning of scale crystals. You should apply it every 80 hours of operation or before preservation.
Remember that all the work should be carried out outside.
Do not use the liquid in smoke generators with a fully blocked scale chamber. Vapors from the cleaning fluid can cause allergies and irritation. In case of contact with skin, rinse thoroughly with water.
Step by step instructions you need to follow when applying the liquid:
Turn off the fog machine and take it outside
Drain the remainder of the smoky liquid
Rinse the tank with distilled water and drain
Pour 250 g of cleaning fluid
Turn on the smoke generator and smoke the entire cleaning composition
Turn off the smoke generator
Rinse the tank with distilled water and drain
Pour 250 g of distilled water
Turn on the smoke generator and smoke all distilled water
Repeat steps 4 through 9 again
Fill a full tank of smoky liquid
Flush with smoky liquid 2 cycles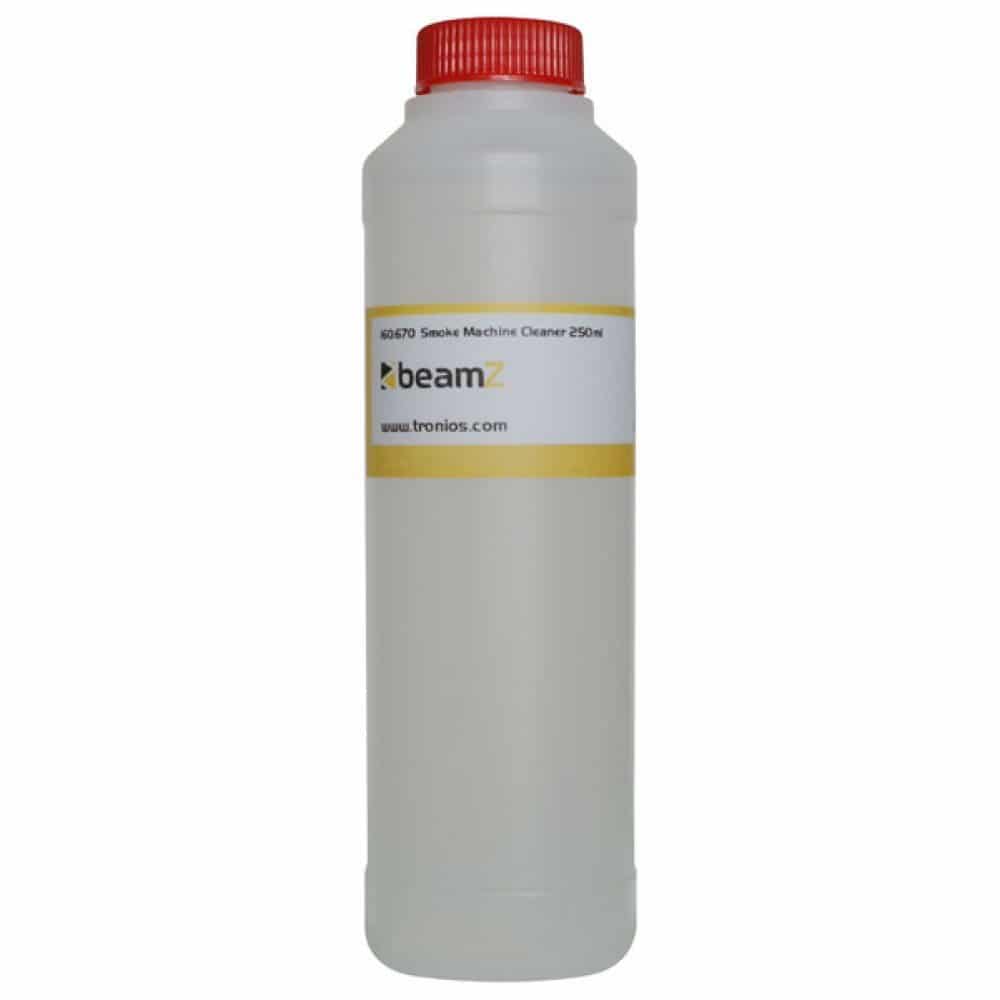 Fog Machine Cleaning Fluid
250ml bottle
Easy to use
non-toxic
Check Price


Such a fluid is a great way to prevent and smoothly maintain equipment. Being safe for humans, the solution will easily clean the internal structure from scale, crystal formations and other contaminants. A capacity of 250 ml is enough for about 10 cleanings.
Conclusion
Modern smoke generators are technologically sophisticated devices. They are fundamentally different from the first primitive smoke machines, where a stream of steam was being released almost uncontrollably. Today, the effect can be controlled remotely, which allows the use of devices in large halls or in squares. Functions for fine adjustment of force and flow rate have appeared. Finally, modern smoke machines are equipped with a smoke timer, built-in lighting system, and much more. But like any other thing, a fog machine can break down if you don't take preventive measures.
What to do if the heating chamber is already clogged? Alas, only a replacement is possible in this case. Cleaning a completely clogged camera will not work. However, if you use a specialized smoke liquid and carry out simple procedures to flush the smoke machine regularly, it will serve faithfully for a long time.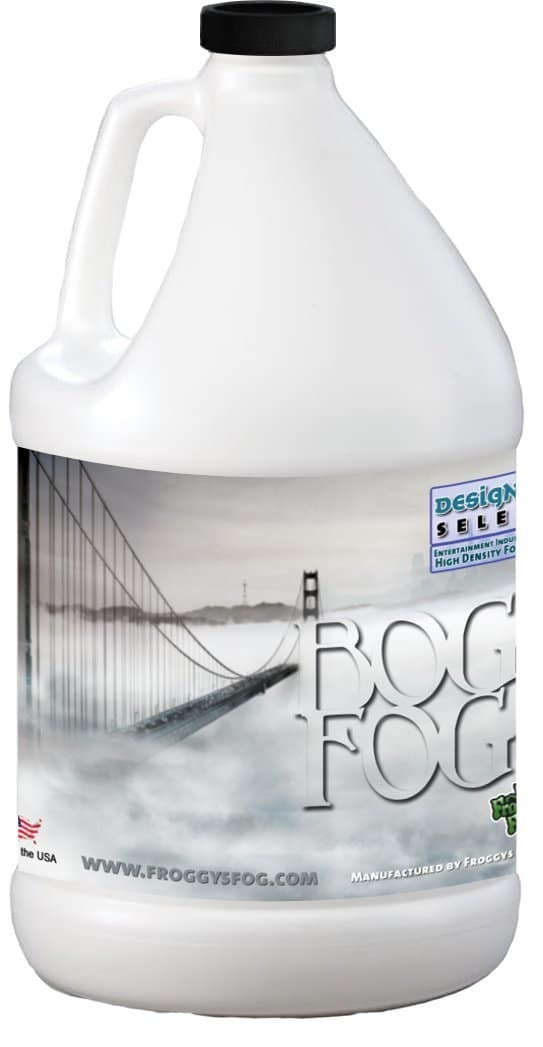 Extreme High Density Fog Fluid
100% American Made - Froggys Fog only uses De-Ionized Water and Pharmaceutical Grade Chemicals, all Approved by the FDA
Check Price


So, everything is in your hands. It's much easier to prevent the problem than to deal with it later. Cleaning of the fog generator is as easy as ABC if you don't think it's a waste of time and postpone it for tomorrow on a regular basis. Clean your fog machine on time following the above-discussed ways. They'll help you avoid possible issues that will take place without the proper maintenance sooner or later.
Have you had any experience of cleaning a fog machine already? Hope you will find this article helpful when you face a need to clean a fog machine. We'll be glad to hear from you. Share your experience of cleaning a fog machine in the comments below. Tell whether you've managed to clean the device successfully using the products you had at home or you had to go shopping and get a special cleaning liquid. We'd like to know which way worked best for you.