A fog machine is an amazing addition to your party or gig. It creates an artificial fog that improves the lighting effects of the venue. With a certain type of machine you can get dense low-lying fog all over the floor or impressive fog sprays enhanced with LED lights.

To make sure you have no problem during the event, you should approach the equipment choice carefully. What should help is a TOP-5 of the best heating fog machines available on Amazon, as well as some helpful information about the specifics of the product.
Our Top Picks For The Best Fog Machines
Image
Product

Resilient Usage

ADJ Products Fog Machine Fury Jett Pro

Both horizontal and vertical use
ETL certification
28 LEDs
Wireless and wired remote

CO2 Effect

ADJ Products VF VOLCANO

Short heating and reheating time
Anti-clog
6 LEDs
Wireless remote

Dry Ice Effect

Tengchang Fog Smoke Machine

CE certification
Fast heating
Powerful
Wireless and wired remotes

Lightweight and Portability

Rockville Fog/Smoke Machine

Fog juice included in the package
Fast heating
Lots of control options
Wireless timer and wired remote; Manual fog button

Durability

Theefun Halloween Fog Machine

Portability
Fast heating
LEDs
Wireless and wired remote
ADJ Products Fog Machine Fury Jett Pro – Resilient Usage
Overview
This one is a powerful yet safe heater-type vertical appliance, meaning it "sprays" fog up in the air. But you can also use it horizontally, just change the position of the unit. And the built-in LED lights make the effect even more impressive.
Functions
With this ADJ fog machine, you get:
Fog sprays as high as 40 feet;
Output of 40,000 cubic feet/minute;
28 LED lights 3 watts each to enhance the visual experience;
Wireless DMX control;
Wireless remote control;
Vertical and horizontal use.
It has special mounting elements on each side, so you can even get the upside-down fog (as much as it's possible) if you hang the machine. The tank for the fog fluidcan be placed both on the front and back of the machine for more convenient mounting.
The line of sight for wireless control is 2,500 ft.
The 28 lights include 7 green, 6 red, blue, and UV, and 3 amber.
The heating time before the first fog spray is about 9 minutes, given you use the full power of 1550 watts. During use, the machine reheats for 80 seconds.
The best fluid for this model is a water-based solution. It uses 150 ml of the chosen fog liquid per minute. You can pour 2.5 l into the tank at once.
Safety
The machine is low-maintenance and has several safety-improving features:
Clog prevention mechanism so you don't have to clean the unit and there's no explosion danger due to a clog;
Thermo-sensing tech that allows the heater to maintain normal temperature;
Low fluid Indicator so you never forget how much you have left;
Safety loop for more caution.
The product is also ETL-certified.
This machine is my all-time favorite! I was looking for a powerful model since I have a considerable hall to fog. It's resilient in usage, heats pretty quickly, and doesn't need a lot of maintenance. What's not to love? I still give it some attention after every usage to make sure the anti-clog is functioning properly. Other than that, it's a great pick.
PROS:
Both horizontal and vertical use;
ETL certification;
28 LEDs;
Powerful;
Doesn't need much maintenance.
CONS:
ADJ Products VF VOLCANO – CO2 Effect
Overview
This machine is mostly for vertical fog and smaller halls. With the right liquid, you can get powerful steam and a CO2 effect. Although less powerful than the other models, the machine is still deemed professional. There are 2 operation options plus some LED bonuses.
Functions
Here's what you get with this product:
2 working modes (manual and remote);
6 LED lights, 3 watts each, to improve the visible effect of the fog;
Dry fog sprays as high as 15 feet;
A special handle for convenient carrying;
Output of 8,000 cubic feet/minute.
The machine is supposed to be mounted upright, no other positions are recommended.
It uses 14 ml of fog solution per minute, given you're using its full power of 770 watts. The tank can contain up to 1 l of fluid at once. It's highly recommended to only use high-quality solutions based on distilled water.
The heating time is only 6 minutes and the usual reheating time is 9.3 seconds. The spray interval is up to 8 seconds, and the second output usually comes in about 9 seconds.
The 6 LEDs include the standard combination of 2 red, 2 green, and 2 blue bulbs.
Safety
The model has:
The exclusive Electronic Thermo-Sensing system that is used only for ADJ products. It controls the heat to keep the temperature safe;
Anti-clog due to oil used in the pipeline system;
Low Fluid Indicator on the back of the product.
The manufacturer warns potential buyers about California Proposition 65. The thing is, a lot of fog liquids contain propylene or ethylene (rare) glycol. These are on the list of potentially harmful substances if ingested with drinking water, according to the Safe Drinking Water and Toxic Enforcement Act.
If used properly, there are no health hazards connected to using this specific fog machine, as well as any other.
This is a smaller, slightly less resilient model from the same manufacturer. I love that they are transparent when talking about potential hazards and how they try to avoid them. Don't let the Proposition 65 thing scare you. The Act was only signed in the state of California, and it's mentioning only potentially harmful substances that can be hazardous if ingested. Using high-quality liquid based on water won't be hazardous.
PROS:
Short heating and reheating time;
6 LEDs;
Wireless remote;
Anti-clog;
ETS.
CONS:
Loud sound from the steam;
DMX control difficulties if using a laptop.
Tengchang Fog Smoke Machine – Dry Ice Effect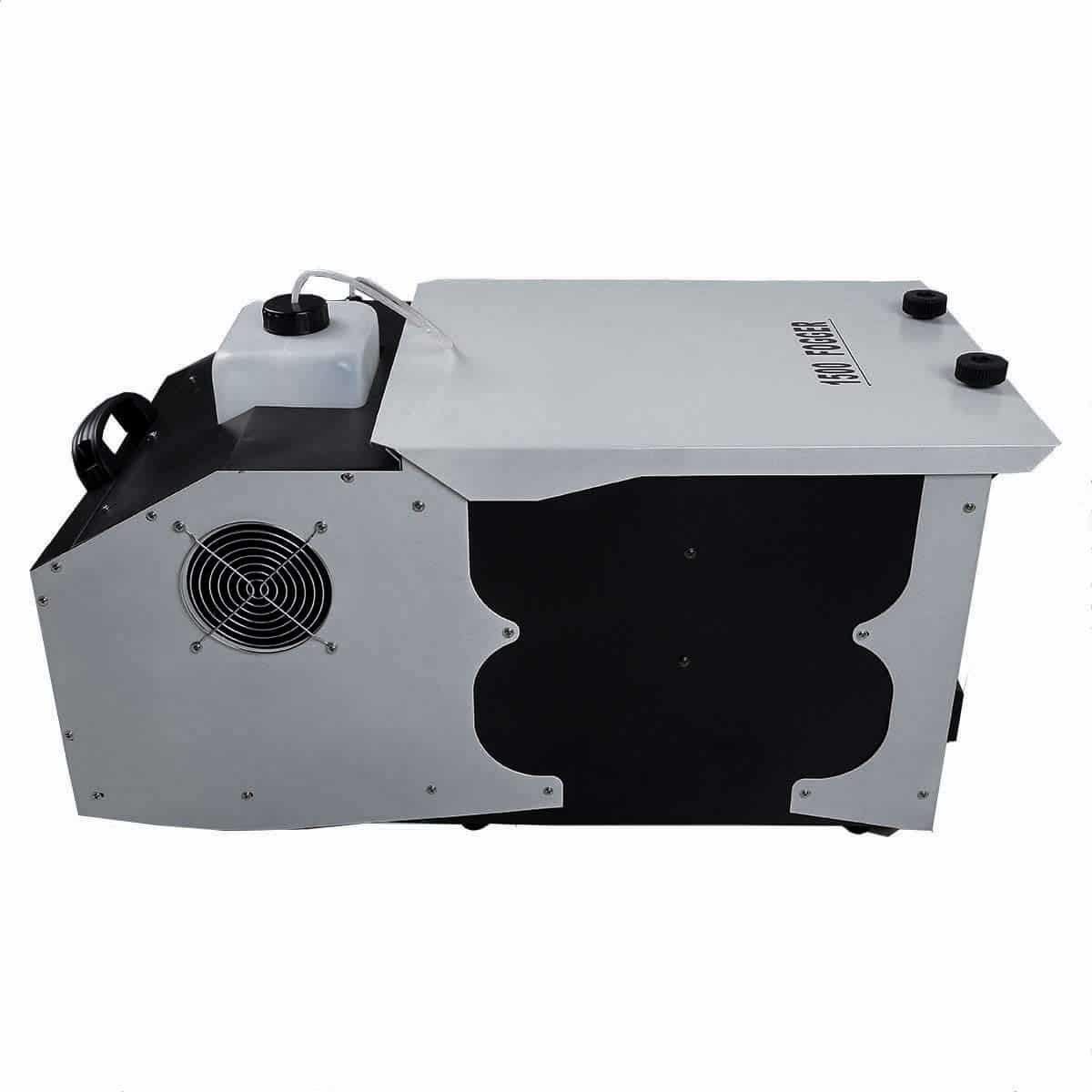 Overview
This machine creates a low-lying fog that's similar to the dry ice type. While chilled fog machines are more expensive, this is a lower-budget variant that uses standard fog liquid and emits dense vapor. It can be controlled remotely and is a good choice for medium-sized venues.
Functions
With this product, you're getting:
Output of 18,000 cubic feet per minute;
10 sq. m to 100 sq. m coverage;
2 l container;
Dry ice usage (optional);
Heating time 4-5 minutes only.
It's stated to be a replacement for more expensive dry ice fog machines. However, you can use dry ice in it for better effect. Some seem unsatisfied with the density of fog in a form of vapor so they recommend using dry ice.
Avoid using regular ice, though!
Safety
The machine is CE certified. The manufacturer provides several safety precautions:
Cut the power off when you don't need the machine;
Make sure the appliance stands firmly on the ground;
Pay attention to the voltage, don't use improper sockets.
This is a great machine for Halloween decorations. It's for indoors only, but also suitable for a yard, so you can create a toy cemetery or something. For such a powerful unit, it heats very fast. Although it's mentioned that this machine can cover up to 100 square meters, I wouldn't push the resource to the limit. It's a good option for medium-sized spaces.
PROS:
CE certification;
Fast heating;
Powerful;
Large area coverage.
CONS:
Rockville Fog Smoke Machine – Lightweight and Portability
Overview
It's a tiny unit with tiny capacity but a lot of potential. Such a model is suitable for DJ stations where you don't need tens of thousands of cubic feet of fog per minute. It's a consumer-size option great for small parties and installations.
Functions
Here's what you're getting from the machine:
RGB LEDs, 3 watts each;
Output of 3,000 cubic feet/minute;
Lots of control options: manual, wireless timer remote, wired remote.
Pressing the "Fog" button once will set off the fogger for 30 seconds. The heating time for this model is about 3.5 minutes.
Water-based fluids manufactured by Rockville and other brands are recommended. A 0.6-ounce bottle of the fluid is already in the package!
The tank capacity is about 0.3 l (10 US fluid ounces), which is enough for an hour of maximum work.
Safety
Safety precautions by the manufacturer:
Don't open the unit. If inoperable, turn to specialists;
Avoid high humidity/moisture;
Ground the unit firmly before usage;
Provide enough ventilation for the fogger.
It's a nice small fogger for regular home parties or DJ stages. Not for outside during the rain, I think, although it's specified that the unit is both for outdoor and indoor use. I loved that the liquid refills are mentioned. You can purchase some along with the machine or anytime later.
It gives me a feeling of safety when the store has liquids suitable for a particular model.
This ensures I won't make a mistake accidentally and ruin the party with hardly visible haze instead of dense fog. While all high-quality liquids are usually safe for any unit, I love to be 100% sure.
PROS:
Fog juice included in the package;
LEDs;
Fast heating;
Lots of control options.
CONS:
Theefun Halloween Fog Machine – Durability
Overview
This is another small portable model that has everything one needs: dense fog, bright lights, lots of additional features. It's also very durable due to its aluminum body that makes sure the heat dissipation is normal plus it's resistant to all kinds of wear.
Functions
With this option, you get:
3 LEDs (red, green, blue, with an option to combine them);
Wireless remote;
Output distance of 6.5-10 feet.
The wireless remote works at a distance of up to 7 m.
The capacity of its tank is 0.3 l. The unit heats up sufficiently 2-3 minutes after you turn it on.

Safety
There are some precautions mentioned by the manufacturer:
Be sure to check the fluid level before turning the unit on;
Don't place the fogger near heating items;
Don't blow the fog in people's faces;
Beware that the LEDs will only turn on when the machine is heated.
Cleaning instructions:
Before and after using the unit, clean the pipe with a solution of 20% vinegar and 80% clean distilled water;
Add fog fluid for the next use if needed;
Before putting the unit in storage, wipe it clean with a dry cloth so there's no moisture left.
Another portable option from a different manufacturer. As its name implies, it's a great model for small parties and Halloween decorations. It's very easy to use, you don't need to know a lot about the internal construction to install and use it. Everything you need for the installation is in the package, except for the fog fluid. This one is a convenient unit you can take to a friend's house as an addition to a party or give as a gift to someone who loves decoration.
PROS:
LEDs;
Portability;
Fast heating;
Wireless remote.
CONS:
Buyer's Guide: Types of Fog Machines and FAQ
Types of Fog Machines
The most important thing you should know is that there are two main types of fog machines:
Heated fog machines (the focus on this TOP-5) use hot liquid that vaporizes into thick fog. The liquids usually include:
Propylene glycol;
Mineral oil;
Solution of water and glycerin.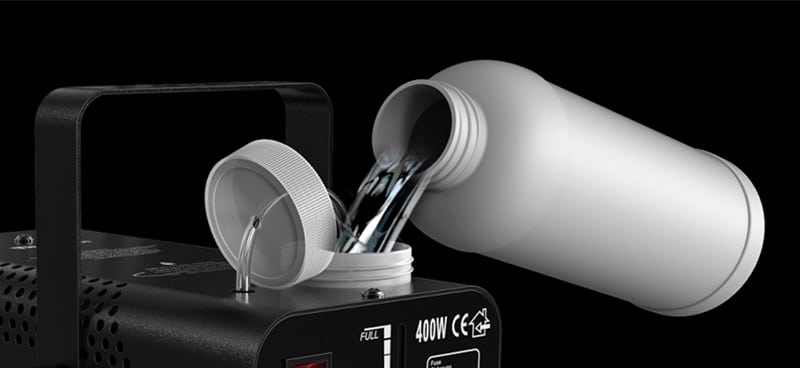 Very rarely ethylene glycol is used but as it's toxic, it's not recommended to buy it for indoor fog. The simpler models consist of a pump and heat exchanger to warm up, move, and vaporize the solution. The more complex models use all kinds of timers, speeds of water pumping, fog thickness settings, etc. Some models have an inert gas as a propelling unit instead of a pump. It's usually nitrogen or CO2.
Chilled fog machines use:
Dry ice;
Liquid air;
Liquid nitrogen;
Liquid CO2 (compressed).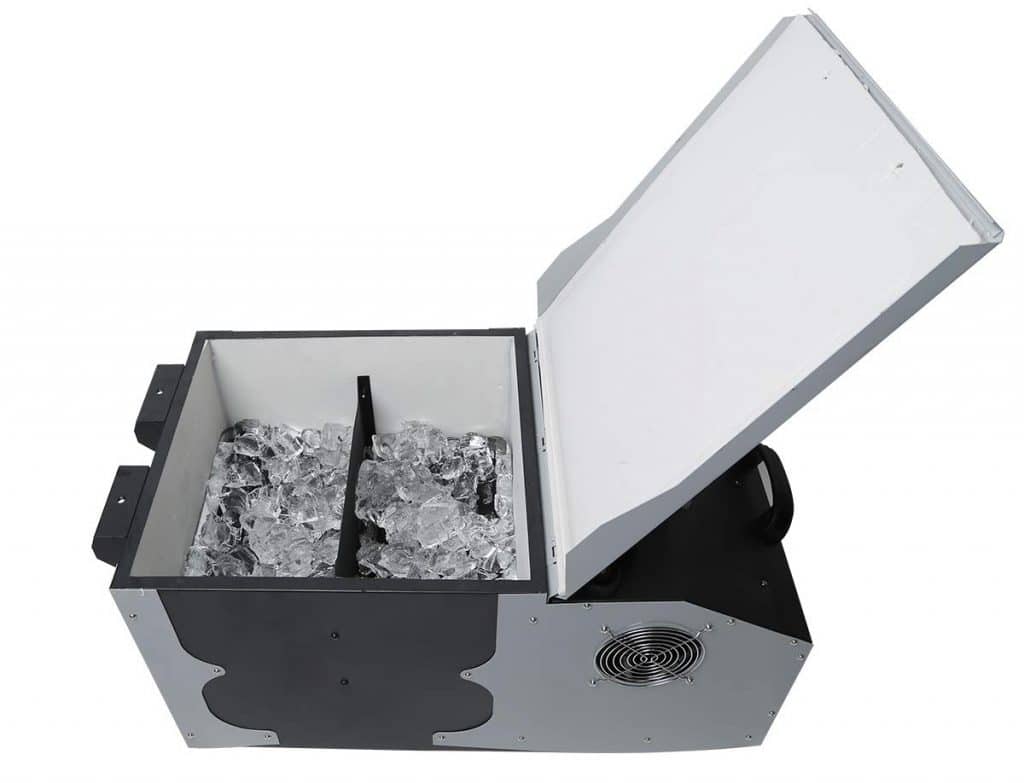 The fog from this type of machine is very thick near the ground and dissipates as it rises higher.
Liquid air is the latest innovation in the market. It's a combination of 79% nitrogen and 21% oxygen. Its main benefit over, say, plain liquid nitrogen is that it's safer for the body. Nitrogen may become a cause of asphyxiation. But while oxygen helps avoid choking on the fog, it increases the probability of combustion. Nitrogen helps here by halting it. The choice is difficult, so it's better to consult a specialist before you choose the right filler for your chilled fog machine.
FAQ: Wattage, Health Hazards, Residue, etc.
Why Is the wattage so important?
The higher the wattage, the more efficient the fog machine is. This factor shows how long it can work and how much fog it's able to create.
If you have a small venue, a consumer option will fit just fine. Such models have wattages of 400 to 1300 watts. If you need a more powerful appliance, look for models with over 1300 watts.
Is there a health hazard?
If maintained properly, the fog won't harm you in any way. However, some people may have throat irritation when inhaling too much of it since the heating machines use solutions with glycol. As stated earlier, liquid nitrogen may lead to breathing problems and asphyxiation. But it's can become the case only if the machine is used improperly or if the affected individual is intolerant to one or more ingredients of the solution/gas.
Does the fog liquid leave residue?
It may, depending on:
The machine;
The liquid;
The density of fog you need.
The fog settles on all surfaces and may leave a dust-like residue that can be simply cleaned.
Does my fog machine need cleaning?

No, if you maintain it according to the manufacturer's instructions. You may need to clean the machine every once in a while if it doesn't start or emits too little fog despite the settings you set. In the user's guide, you can usually find cleaning instructions by the manufacturer. If there are none, contact them or look up the manual online.
Can the fog from the machine trigger smoke detectors?
Detectors that use ionization may perceive dense fog as smoke. Usually, the fog lies close to the floor and dissipates as it hits the height of a detector. However, it's better to consult the manufacturer and the company that installed the smoke alarm before using your fog machine.
Is a fog machine different from a hazer?
Foggers are used as a standalone special effect, while hazers are more of an instrument for light decoration improvement. The latter is less dense.
Spice Up Your Party or Gig with the Most Suitable Fog Machine
The choice of equipment for any event plays a huge role in its success. You wouldn't buy 3 meters of dim LED strip for a huge party hall decoration, right? The same with the fog machines. Take your time to choose the best option for your case. If you plan a lot of different events in different places, there are also universal models with different regimes.

ADJ Products Fog Machine Fury Jett Pro
Both horizontal and vertical use
Output of 40,000 cubic feet/minute
28 LED lights to enhance the visual experience
Check Price


Choosing the best option from the first try will help you save money as well. A high-quality piece of equipment won't break in a month, it will withstand different conditions and be your best pick for all events you're about to hold.