Blacks lights are great for a number of purposes. Because of their UV-A makeup, the bulbs can detect particles that ordinary light can't pick up, such as carpet and clothing stains. It's also a great way to enhance the mood at indoor and outdoor parties or to spot movement outside the home when it's dark.

Below are eight of the best black lights that you'll find online, picked for their longevity and illumination strength. There are multiple lights built for different purposes so go through the list to find the one that's relevant to your specific needs. After that, check out the Buyer's Guide for details that'll ensure you get the right brand. Let's begin!
Comparison Table Top 8 Best Black Light Products
This comparison chart is a brief description of each product's major specifications. If you would like to know more, simply clock on the links provided next to the product's title.

The Ghyo LED is a light bar, meaning that it's rectangular and mountable to any surface you want it to be stationary at. It doesn't matter if its a wall, wooden block, or ceiling. The holds fixed on the base of the product are where you screw or nail it into place.
Illumination is acceptable, whereby a single unit will be sufficient for most large rooms.
If using for a party setting, it might be a good idea to get two instead of a reliance on one, just to be sure that the light covers the entire space the event occurs at.
Body art shows nicely when the UV is on. It doesn't have to be caked on to the skin for it to be conspicuous; just a small amount is enough for others to take notice of its glow. However, this also means that stains show up just as easily. Be sure that your clothing isn't dirty whenever you come near its illumination! Although it would have been nice if the lights came with a remote, the little switch that is located above the cable works fine. Overall, the Gohyo LED Bar is ideal for indoor and outdoor locations. High recommended.

PROS:
Provides enough light for body art to be conspicuous
Has holes on the side that allow it to be mountable to a wall or ceiling
There are nine lights featured on the product, adequate to illuminate a medium to large-sized room
CONS:
Doesn't come with a remote
Next up is the DragonX Professional UV. It's recommended for people that don't want to consume too much power when using a black light. If you're familiar with the technology, then you may already be aware of how some products in this category (particularly older models) will consume the same amount of energy that a fluorescent light will output over a couple of days. But here there's no need to worry. Simply turn it on and you won't even notice it when you go out to read your meter. It's also doesn't create too much heat, lingering around the same temperature as a normal light bulb.
If you have a DMX controller, hook up to control how the unit responds to different sound effects.
This is helpful in stage or house parties, virtually anywhere there's a get-together. When you unbox the product, you might have to tighten up some of the screws and repeat this over time. They have a habit of getting loose, more so when the light is moved around and used often. Still, don't let that scare you away from the DragonX. It's great for professionals or anyone that just like the effect that UV light brights to a mood setting.
PROS:
Very energy efficient; doesn't use too much power to keep in running
Can be tweaked to activate when sounds are heard (with a DMX controller)
Bright projection that can cover large rooms/venues
Doesn't generate too much heat
CONS:
Some of the screws on the panel may need tightening from time to time
The Chauvet is another light that's great for getting mood illumination at venues or live events. If you're going to use it at home, but sure that you have a spot to get it mounted properly. One good feature that's housed of this model is its discharge protection, which prevents damage from happening to the battery when turned on for a long time. It's also compatible with most wired and some wired DMX controllers.
If you have one and want to know if you will work well with the product, simply contact the brands and they'll let you know. If you are going to use this in a large setting, it might not be a bad thing to get two lights. While the brightness is sufficient, two or three ensures that there's no dark spot in the direction you want to stay lit. But if the intended area of use is small, then you shouldn't have any problems.
PROS:
As the light is wireless, can be mounted virtually anywhere
Has battery protection (discharge) that expands its lifetime
Good compatibility with wireless and wired DMX controllers
CONS:
Doesn't get as bright as its size makes it appear
The Onforu LED UV Black Light is a strip, a kind of UV that's built for rooms and walls.
You can place it in the corners, and create a geometric effect that resembles something from a sci-fi movie.
If there is a black light that's best for single-use (no parties, simply to set the mood), this classifies and the best purchase. Don't worry about things getting tangled up when you're ready to roll the strip up again; it stays flush with the other pre-rolled lights.
It crosses around doors, can go all the way up to the ceiling, and even decorate lawn ornaments for various holidays. The AC cord that it comes with is also well built, something you won't have to replace early in the light strip's lifetime. And best of all, the voltage remains low, never being a drain on your monthly power consumption.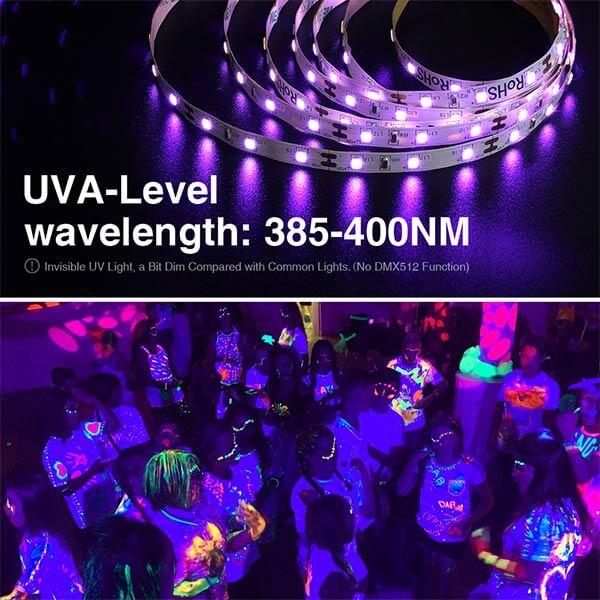 PROS:
Rolls back up quickly without getting tangled
Very low voltage; keeps power consumption down
Durable AC power cord that won't chip or tear
Stays flush with corners and walls
CONS:
Random sections could blow out, resulting in uneven illumination over time
The Welkey Plus US LED Black Light has outstanding illumination that covers a broad range directly from the front. In fact, the angle is about 120 degrees, perfect for getting the fix on a wide room span. This is also great for outdoor parties. And since there are two, you probably won't need any additional black light to go along with the product. Take a look at the lights in the product description.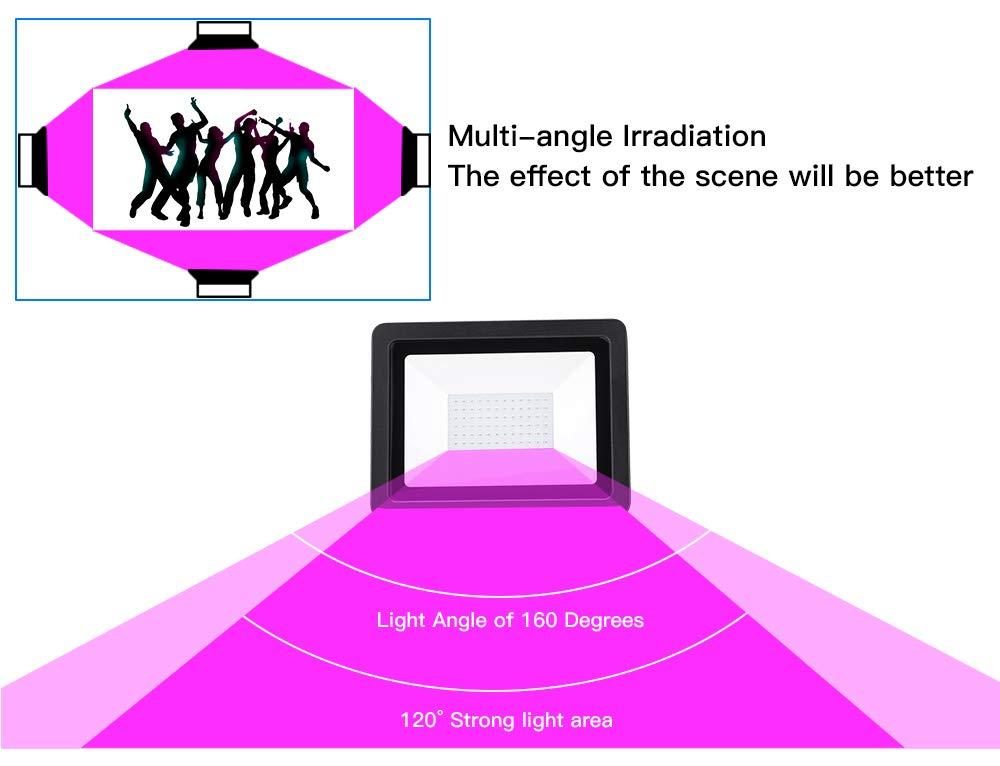 They both have panels that are very strong, shatter and tamper-resistant materials that'll last for years from the date that you acquire them. The Welkey is also suggested for people that need two lights for use in separate locations. Wattage and brightness on one are great, giving room for another to illuminate a different area or corner.
PROS:
Good illumination angle that covers a wide span (120 degrees)
The lens is very dense and resistant to tampering
Just one of the lights gets bright enough far average-sized room
CONS:
Get very hot when left on for several hours
the ADJ Product State Light Unit is a fixed beam of light, similar to a spotlight in many ways. You could use it for this purpose as well since there's more than one color featured with the product. There are several, including strobe effects. But no matter if you're using the blacklight or another color, you have full control over the level of light that shines (dimming, to be more specific).
Hook it up to your DMX board or mount to a corner of your room, using it for get-togethers or other major events/gatherings. Surprisingly, it doesn't get very bright so a second beam is recommended, depending on how big the area is that you anticipate using it in. For rooms, this won't be noticeable but large space with lots of square feet might appear a bit dark, even when one light is on. But in the end, the ADJ is great for multiple locations and will last a very long time.
PROS:
The beam is focused, making it perfect for live stage events
Has colors other than black light
Easy to activate different colors and effects (such as strobe)
Has five varied levels of dimming
CONS:
At its highest level of illumination, the light may not be sufficient enough for rooms that are lit with a large number of lights that are significantly brighter
The uvBeast Black Light is UV flashlight, ideal for spotting dirt and stains than an ordinary light won't be able to detect. You may have seen something similar on various TV series before. This product works in the same way, although the bulbs are LED. Turn off the lights and shine it on anything that you think is stained. You'll find material that you've never noticed before, including traces of insect and/or rodent problems.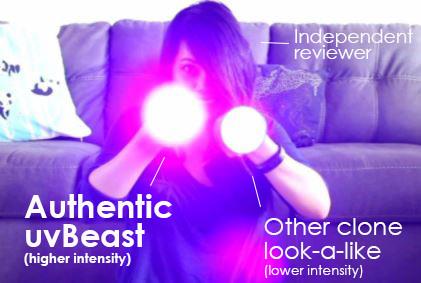 The light works outdoors as well, a great identifier of flying and crawling bugs of all kinds. But even in a room that's lit, the black light's beam is powerful enough to pick up objects when the lights remain on. As this is a flashlight, you might not need it for a party but it does work as a great way for you to make body paint without getting embarrassed about how it looks later!
PROS:
Great for finding insects as well as "invisible" stains
The room doesn't need to be pitch black in order for the light to work well
Takes standard AA batteries
CONS:
Battery leakage may occur, especially if low-quality brands are used
Last but not least is the Sunlite, a multi-pack of black light bulbs (sometimes abbreviated as BLB) If you like the idea of having a black light for your lamps or room fixtures, this makes an outstanding product for you. Expect one bulb to last for approximately seven years, or much longer. This timeframe is gauged by how long you keep the backlight on. If you use it for less than three hours per day, then its longevity get's significantly longer.
Buy them in a large quantity or purchase just a single bulb, there are different purchasing options provided. However, you should be aware of how hot the bulbs can get when turned on, whereby the heat comes on almost immediately. Be careful to avoid placing anything that could catch fire directly in front of the glass. Other than this, there's nothing wrong with the bulbs at all.
They're great to prop around the home for holidays and other special occasions.

PROS:
The bulb is compatible with lamps and other light fixtures
Can last over seven years without needing a replacement
Very dense; doesn't break easily
CONS:
Get very hot when turned on
High-Quality Black Lights – Buyer's Guide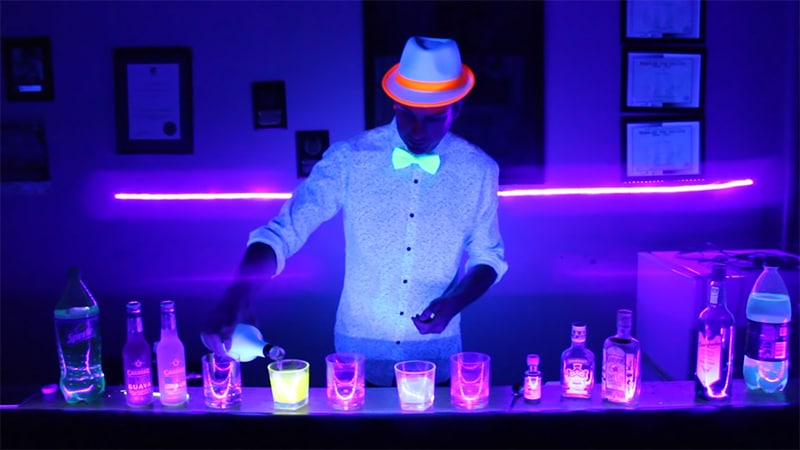 Use this guide to shorten your choices of the products listed to the brands most specific to your needs.
How to Choose the Best Blacklight Product
Choosing a black light is a lot like picking any light. Try to envision how the light will appear in the area you intend for it to be illuminated. It the size adequate for the light? Secondly, know your purpose. If you're trying to pick up stains from a carpet, a small flashlight with black light capabilities should work. Or maybe you need to bring out the mood in your room a little bit.
In this case, any sort of light would be great, so long as the UV light too strong.
For the placement of black lights on ornaments or other movable fixtures, UV brands that allow you to roll up the LED bulbs when you're done is a great way to keep things tidy when the event is over. They're usually called strips, great for inside and outside settings. The bigger the room, the more you should focus on wattage and voltage.
Keep in mind that large venues and other areas with much square footage tend to need several lights; one won't likely provide enough light for the entire areas to shine in UV-A.
Using with DMX Boards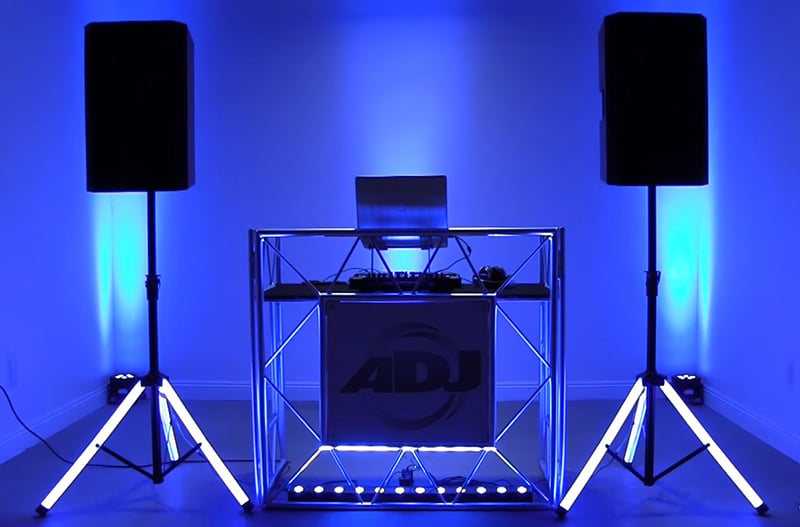 DMX boards are often used for large events such as concerts or other activities that involve music or live entertainment. But many people also have them set up with black light during special occasions in the home.
They'll allow you to sync the light's activation with any sounds that are playing.
Of course, you'll be hard-pressed to find a black light that's sold with a DMX board, which can sometimes be very large. But if you do want to go this route, remember to check with the individual brand's compatibility with the black light you wish to use it alongside.
Choosing your Blacklight Type
There are several blacklight types, many of which are shown in the reviews. Here are some of the major variations:
Stage Lights – Stage lights with blacklight features come in many different shapes and sizes. You've likely seen them before at clubs or concerts. As mentioned previously, they're able to be hooked up with other mixing boards, either through a wired or wireless connection. These are typically acquired in more than one quantity, although one or two lights might be all that is needed for family/friend gatherings at home. Some stage lights can change to colors other than UV-A light.
Black Light Bulbs – Also called BLBs these are standard bulbs that resemble fluorescent or yellow bulbs that are found in ordinary convenience stores. They sometimes burn a lot of energy, although some brands do produce them to be more energy-efficient. Screw them into lamps, light posts, or porches/patios to go along with the mood that you want.
Blacklight Strips – Blacklight strips are great for people that need something for indoor use. Place them on the walls or ceilings, then roll everything back up when you're finished. Rolling is possible with a plastic wheel, to which many brands come with. Outdoor use is okay, too. Just check to see if the lights are waterproof prior to decorating your lawn.
UV-A Flashlights – Flashlights with blacklight capabilities are great for spotting insects or finding stains. Because UV-A picks up the physical matter that's invisible to the naked eye, you can clean up dirty carpets, beds, furniture, and walls like never before. And when cleanup done, you have a way to check on your work for any potential missed spots.
Standard UV Lights – Ordinary UV lights are oftentimes made for detecting stains. These are the type that you've probably seen on television. They're not the same as normal blacklights and have a slightly stronger illumination. UV lights alone usually aren't built for mood lighting purposes. If you want one, be sure that your purpose for getting it is recommended for the task you intend to use it for.
Ease of Mounting
Some black lights can be mounted on walls. If you want like this feature in yours, check to see if the brand has feet or legs that'll make mounted a bit easier. Some blacklights are built the same as temporary normal wall/ceiling lights, to which you could screw or nail in the fixture to the area you want it to be. These typically consist of more than one bulb and may take the shape of a strip or rod, to where the user can turn the light to the desired area of illumination.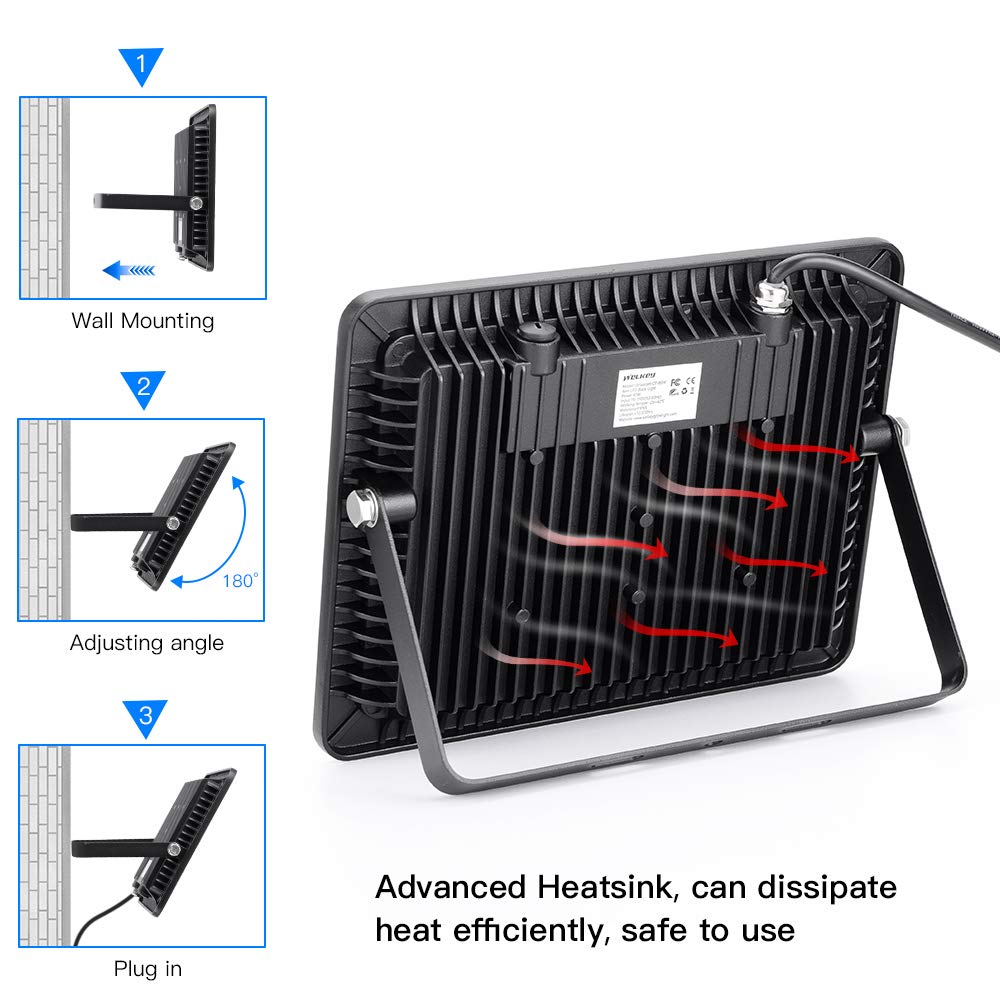 How to Use a Blacklight Safely
It's important that you understand how black lights function. Blacklights consist of either UV-A or UV light, which assist at the far edge of the visible color spectrum. Anything stronger as a shorter wavelength which could cause damage to the eyes if stared at for a long time. If you're using a UV light, have proper eye protection. But even with UV-A (or any light, for that matter), it's a good idea to never focus your gaze on the light's center for too long.
Furthermore, some black lights can get very hot. Don't use them around materials that could easily catch fire or become damaged from its heat. This could mean avoiding some lamps, even if they're compatible with blacklights (the fabric on lamp posts could become damaged).
Summary/Conclusion
Have you found the right product for you? Out of the eight reviewed, all of them would make great additions to any entertainment setting in or outside of the home. You don't have to be some sort of professional to use these lights to their fullest potential. With this in mind, there is one product that comes out on top of all the others evaluated.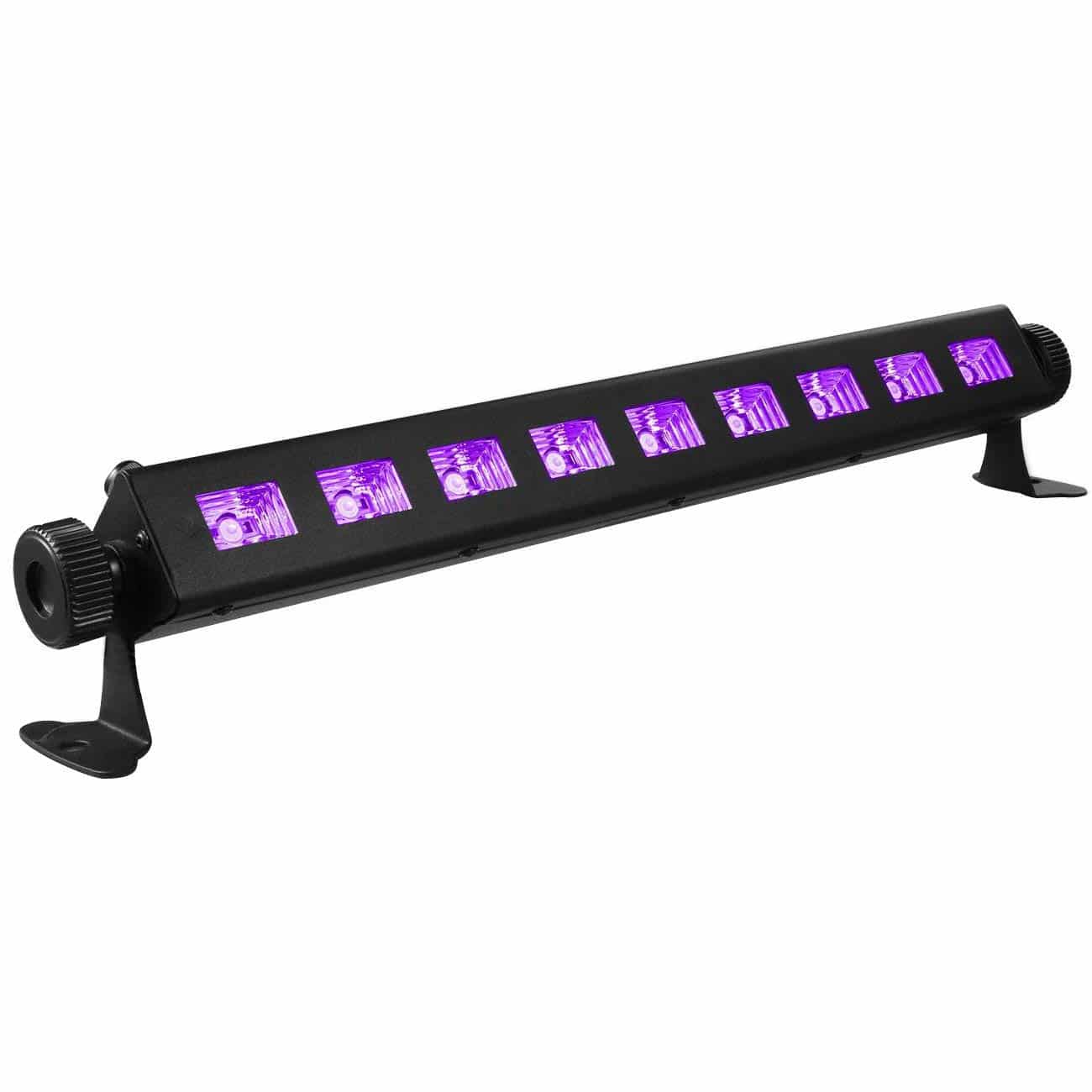 Gohyo 27W LED UV Bar
Provides enough light for body art to be conspicuous
There are nine lights featured on the product
Check Price


The Gohyo 27W LED UV Bar is easily mountable and comes with nine high-grade LED bulbs that can span small and medium-sized rooms. It's great for all kinds of events, both indoors and outdoors. But if that's not the product that caught your interest, go with what you know. It doesn't matter which brand you end up with; they're all designed with quality in mind!