Lighting is an essential part of a DJ set. Google setup ideas and you'll get lost in 5 minutes, fascinated by the ingenuity of modern lights. But what do you need to know or consider before choosing a setup? What will you need for it? What kinds of setups there are?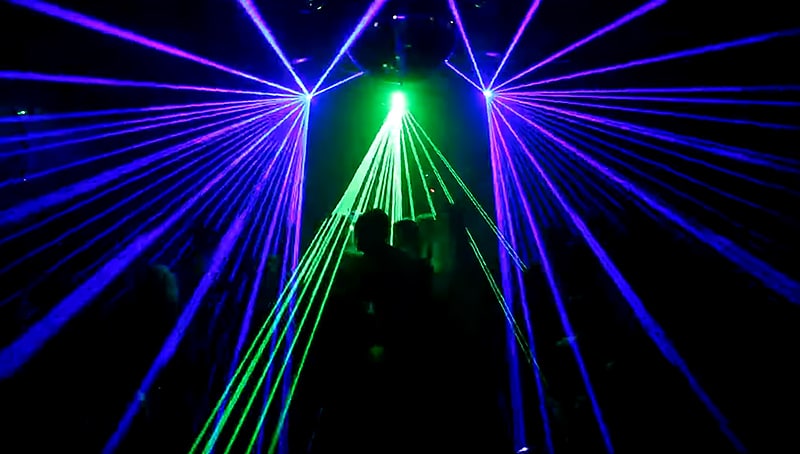 Nowadays, these questions are much easier to answer. Installing DJ sets earlier was a painful experience. First of all, you would have to spend a fortune for decent options. Then, you'd need lots of friends to help install all the stuff, let alone program it.
Modern LED lighting is much more compact, easier to install, and cheaper!
But the questions are still pending, are we right? Then let's dive into a tutorial on how to setup DJ lights!
Things to Consider When Choosing the Right DJ Lighting Setup
Before even planning your DJ set design, there are some things to consider. After reading this section, make notes about your plans. This will help you so much in the following choice of equipment and the overall vision of your set.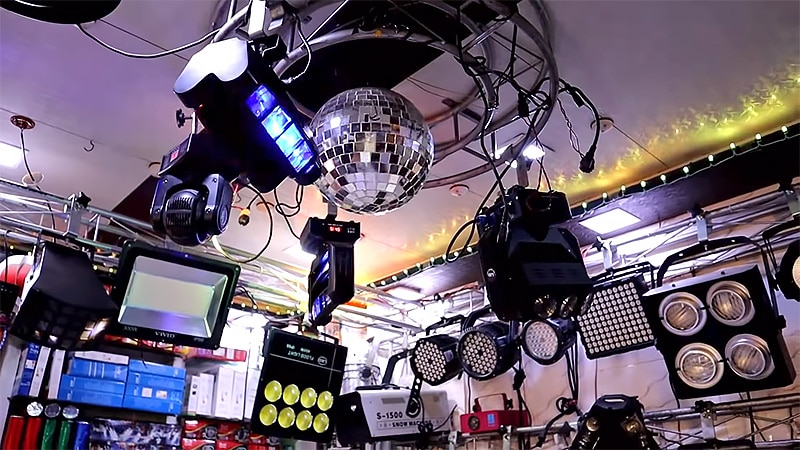 Venues You'll Play At
Think about the size of at least one venue you'll surely play in. Is it a small club or bar? Or is it a large hall? Once you know the size, you can estimate your budget, lighting power, how many units you'll need, and more. In case there's no exact venue in mind, it's time to book some gigs so you buy DJ lighting for a reason.
A small bar or café will only need one set, which is wonderful budget-wise. But if you want to go big, the lighting level will have to go up as well.
Also, think if the venues will require you to sit (dinners, weddings, etc.) or stand (clubs, raves, etc.). For the latter, you'll need some lasers and strobes, while for the first one a standard lighting set will work just fine.
Your Budget
The next stop on your way to the choice is your budget. Think about how much money you're ready to spend on lighting in your niche (lasers/no lasers, DMX/programming, etc.). The most important parts of such a set are:
LED wash. The best option for beginners, an LED wash system will "wash" over the dancefloor, no matter how large it is. It's effective and doesn't require too much knowledge to install and use.
T-Bar. Some amateur DJs place their lights on old plastic chairs or tables. This doesn't look very professional and, quite honestly, isn't convenient. For such purposes, there is a T-Bar – a special stand where you mount DJ lights.
DragonX 4 Bar LED mobile DJ Stage Lighting Package
Ideal LED DJ beam light bar for stage, wedding or parties
4Bar Tri Color , Sound-to-Light/ Auto / DMX / Foot Switch Color Mixing
Complete LED stage lighting kit
Check Price


Even basic sets usually come with remote control for easy setting and operation. You can also find some with footswitches if there's no chance to use hands for light control.
More experience leads to a wider light variety you can add to the set. Later on, try lasers, strobes, derbys, and more. Just make sure you get proper brightness.
A small bar doesn't need powerful lasers unless your purpose is to blind people, which we would never recommend.
Once you need more power, try buying another similar set instead of getting a whole new system. This will add more lights, more colors, and more movement to the stage and hall.
Consider DMX, Sound-Sensitive or Programmed Operation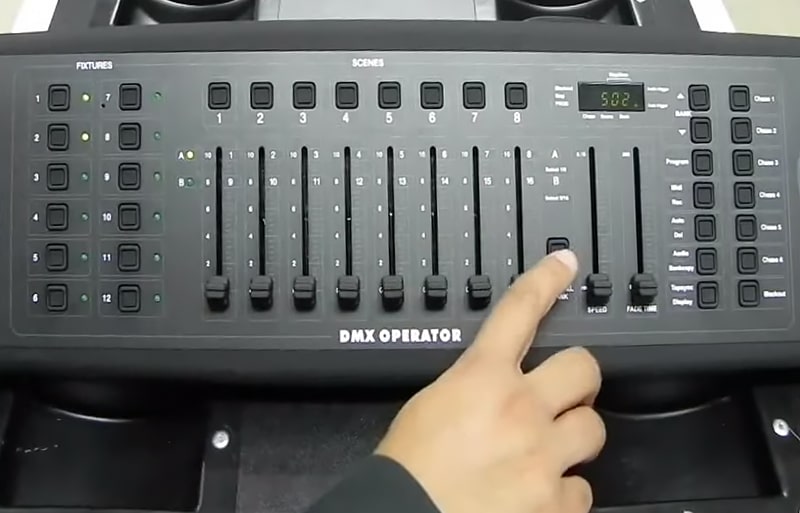 To make sure your show is the best, you have to try DMX control later on. It's quite an investment, but believe us, this controller will transform your performances into works of art. It allows you to create light shows that would correlate with the music.
Every beat, every high-pitched sound, every bass sound can be rendered within such a light show.
It's a lot of work, however, especially for those who aren't yet familiar with DJ tech. Earlier, consoles were difficult to use, you would have to pass a course to understand every detail. Nowadays, tech is more compact and beginner-friendly, so if you're planning on playing large gigs or just want to make every performance special, go for DMX from the very beginning.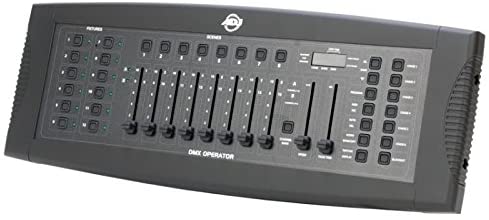 ADJ Products DMX Operator, DJ Controller
Simple ease of control
Programmable scenes and chases
Control intelligent or basic lighting
Check Price


If you're not into doing all the work yourself, try sound-sensitive operation. There will be less control and less labor from your side, yet the show will still be impressive.
And if you're a total beginner and don't want to get into such details yet, get programmed lighting. The system will repeat the same pattern over and over again, which is fine but can get boring. If you're aiming for a high level of performance, it's better to use a DMX controller.
Types of Lights Used for DJ Sets
There are a lot of types you can try, mix, move, and add effects to during your gigs.
Wash Lighting
The eternal classic, these are washing lights that fully cover a certain area. They can be moving or stationary, highlighting the main table, centerpiece of a party, or your set. No matter what other equipment you have, wash lights are a must, both for beginners and professionals. They create a background for all other effects.

Illuminating a DJ booth, these LEDs will put an emphasis on your design, whether it's plexiglass with ornaments or a glitter set. You can use other bulbs as well, but LEDs are brighter, more energy-saving, and more flexible as a technology.
Effects Lighting
This is where the most fun begins. Effects lights can be of all kinds, from basic moving and randomly changing in color to sophisticated, with DMX control. This type is responsible for the atmosphere of your performance. DMX opens so many doors for you since you can create a whole light show that will enhance your gig!

A console needs time and skill to get used to, but it's a must-have for any DJ.
These lights can be shining in any direction, there are no rules other than the proper brightness
. As you gain experience, you'll understand when to use effects. There's no need to turn on strobes during a slow, gentle song, right?
Fog and haze work perfectly with such lights, you can create laser shows right in the air. Make sure your venue allows fogging machines, though.
Uplighting
This is a transformational type of lights that can make even the most boring classroom a premium-class nightclub. These are LED strips and pars that are directed up a wall, column, picture, sculpture, etc. Anything highlighted in such a direction looks stunning all of a sudden.

Uplighting can help you create a special atmosphere for your customers and achieve a better overall perception of your performance.
At first, simple fixtures will work just fine, but with time, you can get a set of wireless, remotely controlled ones. A great thing is that they don't really need DMX control. You can get a set of stationary lights and, with proper installation, they will become a cherry on the cake!
Pro Tips for Beginners Using DJ Lighting for the First Time
Here are some random pieces of knowledge that will especially be a great help for beginners:
Make sure you know when to add light effects. Sometimes, getting everything at once and not being able to use it gets you more trouble than, well, effects. As you get more confident and ideas start pouring, try a thing at a time to see what kind of response they get.
Use symmetry to your advantage. When buying light sets, opt for symmetry. It will bring balance to any set and even a beginner DJ's set will look neat. For that, you'll need at least two T-Bars, depending on the number of lights.
Use fog but do it with caution. A great option for clubs and open venues is fogging machines. Before using them, though, learn all precautions. They shouldn't be used where people eat, so it's a no-go for a dinner party. And a tiny closed club might not be the best option, although it would look awesome. As you get more experienced, you'll be able to use fog to create a great atmosphere.
Place most of the lights behind you. Especially if the number of fixtures you have at the moment is limited, place most if not all of them behind your set. In case you can afford some additional lighting, place it to highlight elements of décor for a better overall picture.
Consider moving fixtures. Later on, you can make use of moving fixtures that will increase the variety of your DJ lighting. LED wash is good, but if it's moving, you can cover a larger area and create more effects.
Take advantage of sound-activated lights. If you're not into using DMX, consider sound-activated lights. You'll have less control over the whole show then, but your lights will do all the work themselves. There's a sensitivity knob on your set, and adjusting it correctly will bring a whole new taste to every performance.
Conclusion
Lighting can make any place look like a bomb club, even your living room or a classroom. Also, if you enter any club when the main lights are on, you'll only see a simple room as well. My point is, choosing DJ light setup and installing it correctly is crucial for the success of your gig or a party. Of course, it's not as essential as the music you'll be playing, but lighting surely creates an atmosphere of celebration and magic.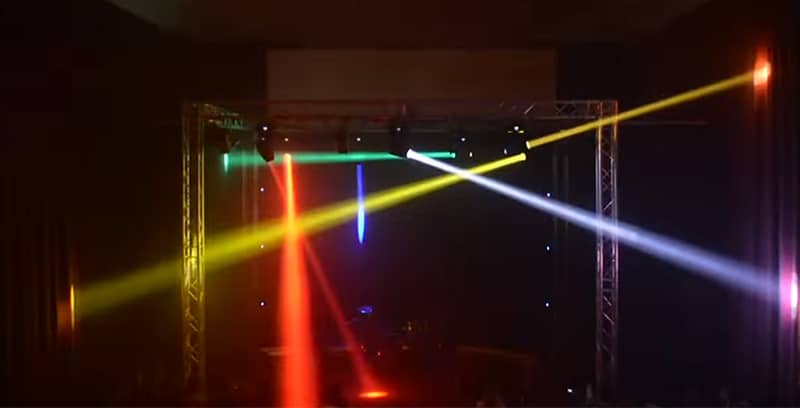 We've included as much as we know about the topic in this guide/tutorial. How did you like it? Is there anything to add? What will you try next time guests come for a holiday? Tell us everything in the comments and share this article if you enjoyed it!